Product Description
Why Grooming your Pet?
Grooming contributes an important part of your pet's health. When brushing or combing regularly, it gives your pet a healthier and shinier coat, Percell Small Animal Grooming Tool set provides you with three different grooming tools as a nice way to bond with your pet.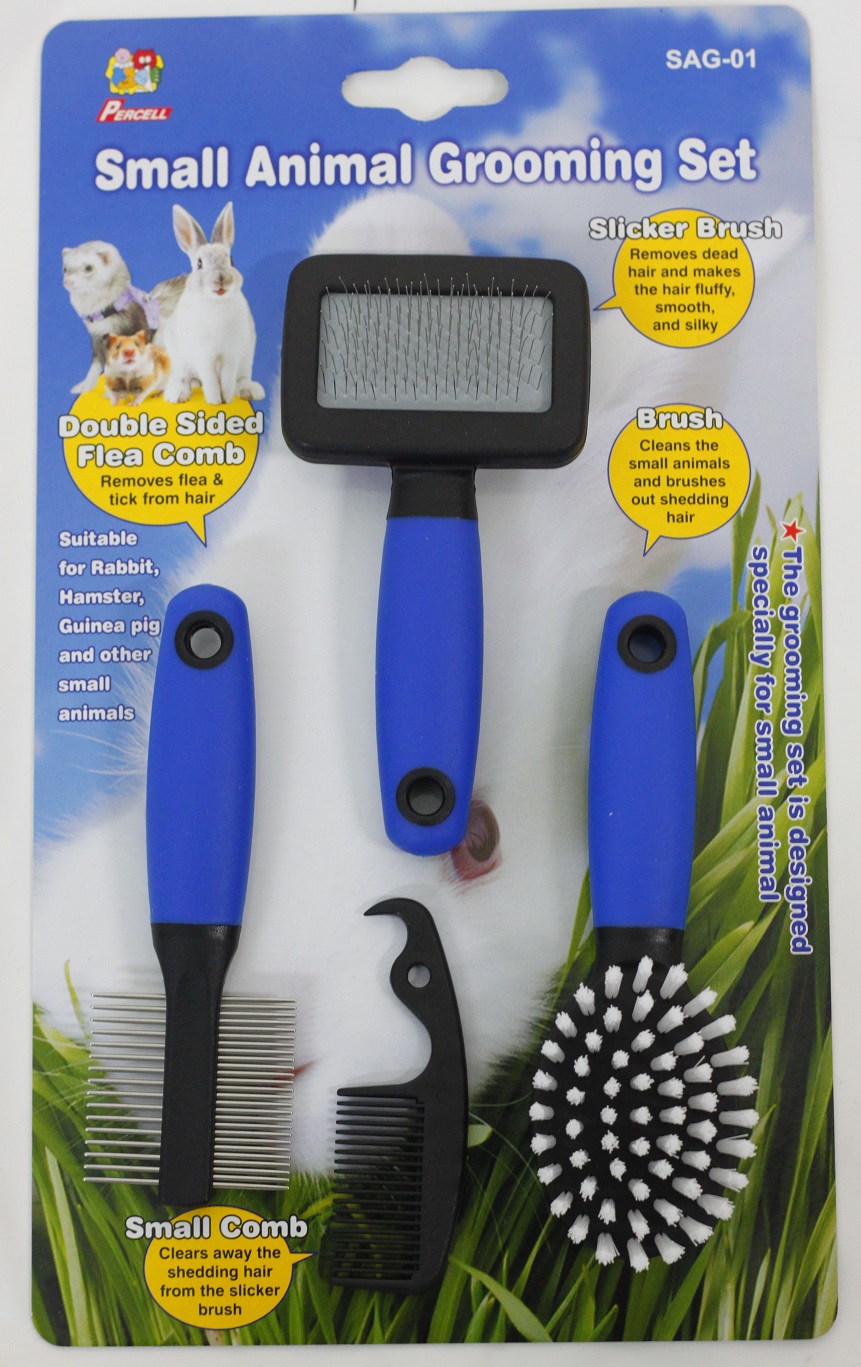 ☛PREMIUM QUALITY--- Our small animal grooming set is made of high quality material, it stimulates circulation of your pet, and also helps to keep your pet's coat shiny and healthy all the time.
☛MULTIFUNCTIONAL GROOMING SET--- The small animal grooming kit not only remove mats, tangles, knots with the small comb and the slicker brush, but also comb out fleas by the double sided flea comb.
☛ERGONOMIC DESIGN--- The handle can fit perfectly in the palm of your hand, makes brushing and grooming easier and more comfortable for both you and your pet.
☛SUITABLE FOR--- Our small animal grooming kit is suitable for all kinds of small animals, such as hamster, gerbil, guinea pigs, kittens, puppies and other small animals.
1) Double Sided Flea Comb:
Designed with a comfortable grip handle and a rounded shape teeth, grooms the undercoat well and quickly without scratching your pet's skin. As our small double sided comb is specially selected for small animals such as rabbits, guinea pigs and hamsters, etc. It works well on dogs and cats to groom around the face and ears when a regular brush or comb is too big.
The double sided flea comb is great for removing dirt, dead hair and eases knots and tangles. One side of the comb also helps to provide your pet a itch-free relief in a safe and natural way. The other side of the pet flea comb has closely spaced steel teeth that is best for eliminating flea eggs that have been laid on your dog or cat's skin.
2) Slicker Brush:
The outer casing of the slicker brush is made of high quality plastic and can be rinsed directly. The handle is ergonomically designed which makes it easier to comb and reduces the fatigue of the wrist.
Our